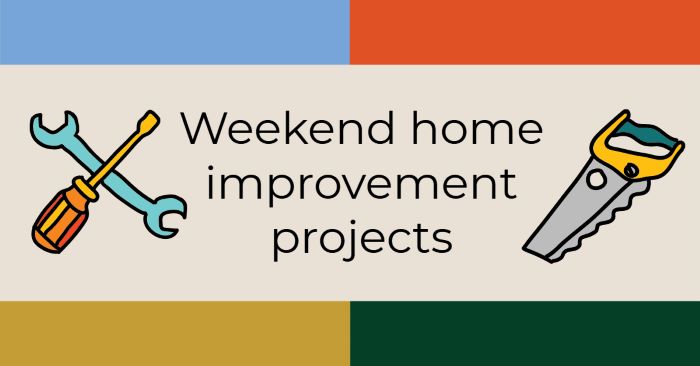 With so much going on in our daily lives, it's sometimes hard to make time for home improvements. If you're short on time but still want to make progress on your home improvement to-do list, weekend projects are an excellent place to start.
Even though some home improvement projects do take a while, some can be done quickly for ultimate results.
DIY laundry room ideas
Adding storage space is a simple DIY project which can help declutter the laundry room and make tasks more pleasant. For example, consider adding shelves to the wall area to hold laundry supplies and free up floor space. For materials too heavy or large for shelves, try storage bins and baskets to avoid clutter.
Create an easy-change gallery wall
Do you enjoy switching up photo decor from time to time? Consider setting up a gallery wall you can make easy changes to. You can find picture ledges at many stores selling home goods products which can be crafted into your gallery wall. You can spray paint these ledges a different shade than your wall to add a striking contrast.
Once the ledges are installed, you can add your pictures to picture frames and set them up. Switch these photos around or out to your liking.
Create an indoor floating garden
Add a raised garden bed to your space to bring fresh life and greenery indoors. You can include different tiers, which allows you to add multiple plants and flowers to decorate. This lovely creation can usually be put together within a few days.
DIY projects don't have to be lengthy to make a home fabulous. Over the short span of a weekend, a few extra shelves, paint, pictures and plants can bring freshness to your space.