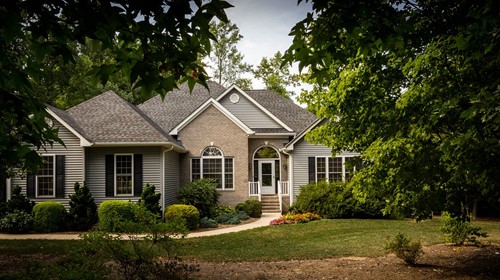 A home's exterior is its first impression. From the way the curb appeal ensnares passersby and potential buyers to how your home presents to your community HOA, exterior features are areas to consider carefully before altering or adding enhancements, including your home's siding. While it may be tempting to splash any color across your home, take a moment to consider what you really want out of your home's siding aesthetic.
Here are a few colors to help kick-start your project.
Grays
Gray is a novel and wholly neutral color by itself. However, the various shades of gray, though still neutral, could add an astounding amount of depth to your home. Some of the most enticing colors include charcoal, dusty gray and gray-earth tone hybrids.
Grays are easy to find, simple to pair with accent colors and typically accepted by most HOAs.
Earth Tones
Another safe but easily paired color palate involves earthen tones. Earth tones are great for applying to home siding because of their ability to blend with their surroundings, such as trees, dirt or shrubbery. Also widely accepted by various HOAs and other neighborhood associations, earth tones are easy to come by and can be a benefit when adding textured siding or living features around the exterior of your home, like a living wall or vertical gardens.
Earthen tones comprise greens, browns and soft burnt oranges. Some may also include gray tones and all seem to take deep red accents well.
Black
If you're looking for something a little bolder and don't want to go with a borderline offensive color hue, try black. Black is a bold color that can blend well with just about any color scheme. Offset with softer, brighter colors, black can help your home stand out while providing you with a near-blank canvas for your exterior home accessories.
Because black is such a bold statement color, make sure that you've gained approval before adding it to your home's exterior siding.