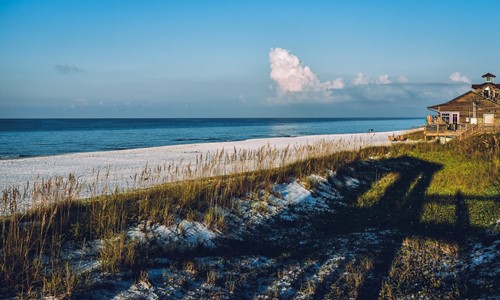 As the weather warms up, so do the decorating trends and nothing is hotter than coastal design style. Coastal design lets you bring all the best of the beach home with you no matter where you live. You can create a lush tropical oasis or a casual beach house in any room by following some basic design elements. If you're looking for a way to refresh your bedroom, here are some tips for utilizing the coastal design style.
Start With Blue
Blue is essential to coastal design style. Keeping blue in your color scheme will bring the sea and sky indoors for a refreshing and relaxing vibe. The choice of blue is your preference and mixing different shades can increase depth and coziness in a bedroom. Try navy paired with crisp white for a traditional take on coastal or go for more foggy gray blues contrasted with dark browns. While your palette should involve blue somehow, you don't have to make it the focus. Adding blue accents or a single statement wall can work wonders for a coastal-inspired space.
Opt for Weathered Finishes
Coastal style draws inspiration from natural elements found in coastal environments. One of the best natural elements to use in your decor is driftwood. While actual driftwood might be scarce, weathered wood finishes are widely available and vital to many modern design styles. Reclaimed wood furnishings and accessories make a perfect addition to your coastal inspired bedroom, whether you go with a rustic wood headboard or distressed plank flooring. If you are lucky enough to find furniture or accessories crafted from driftwood, this is the perfect excuse to splurge for the perfect coastal aesthetic.
Try Shiplap
Shiplap has come into fashion among lovers of the farmhouse and rustic design styles. This horizontal wall paneling is great when used for accent walls or entire rooms. If you want to give some texture and character to your bedroom walls, try shiplap in white, off-white or light gray to give the space a coastal style boost. One of the best advantages is that you can do it yourself: you'll have your own private beach cabin bedroom in no time with DIY shiplap paneling.
Add Coral or Tropical Accents
If you're worried about a beige and blue color palette being dull, try adding in pops of coral. This perfect mix of orange, pink and red will contrast beautifully with any shade of blue and add visual appeal while adhering to your coastal theme. Another idea for adding some vibrant color accents is to go tropical. Banana yellow, orange, fuchsia and hibiscus pink are all perfect additions to a coastal style color scheme. Some easy ways to add these bold colors is with decorative accents like lamps, throw pillows or even smaller furnishings like bedside tables or sideboards.
Pick a Motif
The inspiration for coastal design is far more than just the environmental elements—it includes plants, animals and man-made objects as well. If there is a motif you love, use it as a repeating theme in your design to make the room cohesive. Ideas for motifs include objects like wheels, anchors and fishing paraphernalia. For animals, you might choose sea horses, starfish, sharks or sea shells. For a tropical edge, you can never go wrong with palm trees or hibiscus prints.
Coastal design is a style you can enjoy no matter where you live. It's a casual and easily accessible style that will promote a comfortable and invigorating atmosphere in any room. Try these ideas for your bedroom and make every day a beautiful beach house retreat.