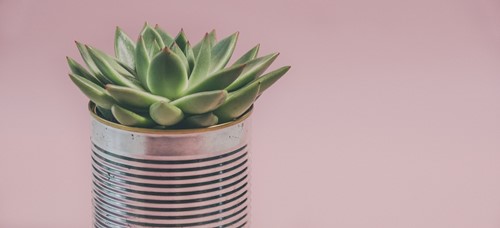 You don't need to strain your budget buying brand new flower pots when you can make some yourself. There are many common items you can convert into flower pots to save time and money. Many of these DIY projects you can accomplish with a few basic tools and things you already have around the house. Here are some ideas for DIY flower pots.
Yogurt Containers
Plastic yogurt containers are an excellent choice for a DIY flower pot because they are sturdy, inexpensive and tend to be the right size for most flowers and plants you can buy. All you need to do to turn a yogurt container into a planter is to add a few drainage holes into the bottom using a heated nail or other sharp object. Once you melt some holes into the container, you can paint or decorate it however you wish.
Mason Jars
Mason jars are a trendy but incredibly practical option for DIY flower pots. You can add drainage holes to the glass bottoms using a drill and a diamond bit or fill the bottom with rocks and pebbles to help with drainage. You can paint or decorate the mason jars in a variety of ways, including with spray paint, decoupage and twine. However, leaving the jars as-is will let you see the potting mix inside which is helpful when determining when to water.
Tin Cans
Tin food cans make a fun and easy flower pot and make great use of an object you'd otherwise throw away. Adding drainage is as simple as hammering a nail and the decoration possibilities are endless. If you like the existing labels and want to protect them from wear and tear, try painting over them with a coat of Mod Podge or another sealant. You can also remove the labels to reveal the shiny metallic surface for a look that's both contemporary and rustic.
Paint Cans
For a larger plant or multiple plants, try repurposing an old paint can. One of the convenient things about paint can planters is that they have a handle already attached. You can use it to hang them on the wall, from brackets or other plant hangers. Similar to the smaller tin cans, you can create drainage holes using a hammer and nails—just prepare to work a little harder as the metal is thicker than those used for food.
Tea Tins
For instant vintage appeal, try using loose-leaf tea tins as miniature planters. These work best for succulents, seedlings or other tiny plants, but their cube-shape makes them stand out from the rest of the round containers suggested here. A good deal of tea tins have decorative labels that are great for adding vintage charm but the flat surfaces also make the tins very easy to customize.
These are just a few ideas for how to make your own planters. With some basic DIY skills, you can plant flowers in practically anything. Use your imagination and you'll end up with completely unique and budget-friendly planters.