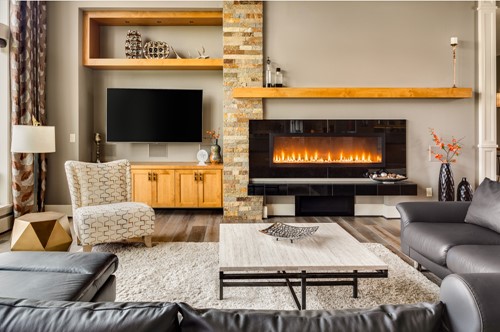 Image by Breadmaker from Shutterstock
A fireplace is a cozy addition for a home that can add aesthetic value as well as warmth to your space. Whether you're building new, retrofitting, or shopping for the perfect home there are options for most situations. You'll find many design options as you start to shop but the initial consideration should be to determine a fuel source.
Wood fireplace
Wood-burning fireplaces offer the crackle of the fire, the fragrance of pitch, and the soft glow of coals. For some, there's nothing better than a perfectly lit wood fire. But along with the cozy flames and the perfect scent come some considerations.
Potential for smoke: If the flue does not open correctly or if there is a blockage within the chimney, you may find smoke coming into your room instead of out the flue.
Chimney maintenance: The wood you burn and the temperature of your fire determines how clean your chimney stays. At least annually, have your chimney professional swept to remove the buildup of creosote that can cause house fires.
Ashes: You will need a plan for disposing of the ashes once the fire is out.
Natural gas
A fireplace that burns natural gas can either be open or closed. An open hearth appears to be the same as a wood-burning fireplace and requires a chimney. These are called "vented" fireplaces. You can easily convert a wood-burning fireplace to a vented gas fireplace if you have access to a gas line.
An enclosed gas fireplace is a "ventless" unit. These require more intensive construction but are great to give you the "look" of an open fire without access to the flames. These can either operate on natural gas or propane.
Gel system
A gel fireplace doesn't require specialized installation. Canned gel burns in a special unit that does not need ventilation. Often available in modern, minimalist designs, these fireplaces do not need access to gas lines or electricity. They can be installed anywhere on any wall.
Electric
Outside of the gel unit, the most effortless option to incorporate is an electric fireplace. Rather than flame, they use heated coils to provide warmth and a fan to project the air into the room. They often include flickering lights and simulated flames. Electric fireplaces require no vents and can install anywhere within proximity to an electrical outlet.
No matter which fireplace you select, take care to install it properly and operate it by the manufacturer's instructions. If a fireplace is an important feature to you, make sure your real estate agent knows it's on your "must-have" list.